Fire Resistive Garden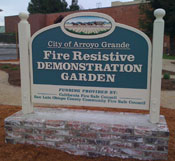 Arroyo Grande in Bloom in conjunction with the City of Arroyo Grande and the San Luis Obispo County Community FireSafe Council have created a Fire Resistive Demonstration Garden at the Arroyo Grande Fire Station on Traffic Way.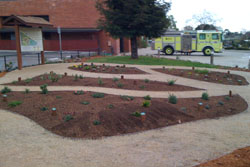 Fire Resistive Landscaping is the process of creating an area around a house or structure that is resistant to wildfires while providing a pleasant appearance and enhancing the environment. The demonstration garden presents both an example of fire resistive landscaping and a collection of fire resistive plants. Along the garden paths are markers with the names of the plant species.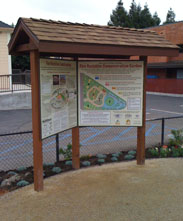 Towards the center of the garden is an information kiosk that describes the six steps to create a fire resistive garden plus information about the layout of the Demonstration Garden. Additional information about the individual plant specimens including their growing habits, soil and water needs is available below.
Please visit the Demonstration Garden and learn how you can create a fire resistive garden to help protect your home and family. The garden is available for viewing seven days per week and admission is free.
Download the Plant Specimens Data Sheet (Adobe Reader pdf file).
The following organizations provide additional information
about fire resistive landscapes and fire prevention:
California FireSafe Council - www.firesafecouncil.org
San Luis Obispo County Fire Department - www.calfireslo.org
Cal Fire - www.fire.ca.gov
Arroyo Grande Fire Department - www.arroyogrande.org