Welcome to the Arroyo Grande Public Art Program!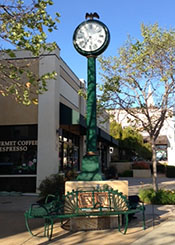 Arroyo Grande Public Arts is a non-profit volunteer organization dedicated to bringing public art to the City of Arroyo Grande. We hope to enrich Arroyo Grande's visual appeal with art that reflects our unique culture and rich history, while providing local artists an opportunity to showcase their work.
What is Public Art? The term public art refers to works of art in any media that have been planned and executed with the intention of being staged in the public domain, usually outside and accessible to all. The term is significant within the art world, to whom it signifies a particular working practice, with implications of site specificity, community involvement and collaboration.
Vision Statement: We envision beautiful, engaging open spaces with public art woven into the public infrastructure, where public art defines and reflects our community identity.
Mission Statement: Our Mission is to encourage and support Public Art projects that stimulate a cultural environment that reflects the city's heritage and character. Our support will include but not be limited to identification, funding, installation, support, and maintenance of public works of art.
Goals:
• Promote and support the work of local and national artists
• Respond to and reflect the diverse nature of Arroyo Grande's population, history and growth
• Approach the entire city as a showcase for public art
• Engage the community to encourage public art sponsorship
Programs:
AWARDS: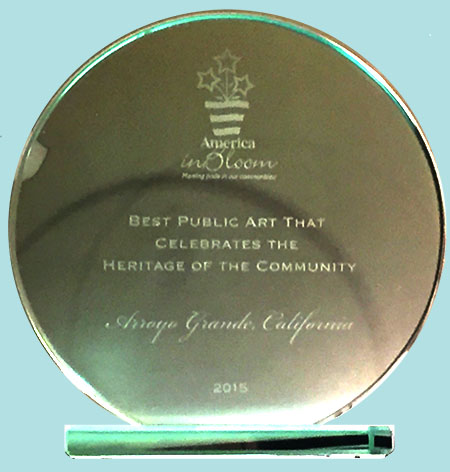 PUBLIC ART PROJECTS
Below are two photos documenting the first Arroyo Grande Public Art project. One shows the original blank wall and the second shows the wall with the finished mural. The mural is located on the Robert's Restaurant building on the corner of Mason and W. Branch. The mural was funded by NKT Commercial, owners of the building. The artist is Colleen Mitchell-Veyna, who has created more than 100 murals mostly across California, but also in Oregon and Washington. Painting of the mural began in early May, 2014. It was completed by the middle of July.
Click Here for a short video showing the progression of the mural through June 10th.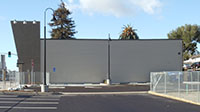 Another project is a Japanese lantern representing the contributions our local Japanese American farm families have made to the AG community. It is located on the Peoples Self Help Housing project on Courtland (a former strawberry field). PSHH funded the project! Photos are shown below.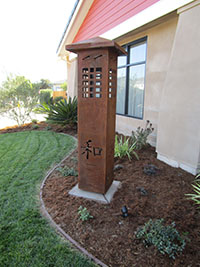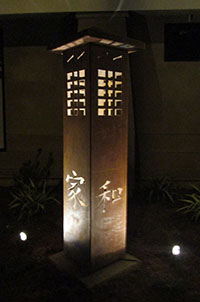 Two projects recently approved should be completed in 2016. One is a representation of a Chumash basket by the local Yak Tityu Yak Tityu tribe. It was created by Chumash artist Leah Mata . It will be four feet in diameter, made of metal on a granite base. The other is a commemorative bench with a bronze bas-relief of Harriet Quimby, the first licensed American female pilot who once lived in AG. The artist of the bas-relief is Steve Curry.
All projects were privately funded.
Future projects we are working on include:
The 5 Cities Diversity Project - AGHS Campus/Clark Center
Shopping Center - Grand and Elm Streets
World Trade Center girder remnant - 5 Cities Fire Authority, Station 1
Hoosegow Park - AG Village
South County Regional Center/Library - Outside entrance area
-----------------------------
Committee Members:
Trudy Jarratt, Chair
Bob Lund
Marlene Robinson
Nan Fowler
Kathie Lamartina
Kathy Phelan
Jim Trask
Melanie Hodges
Elaine Costello
David Hirsch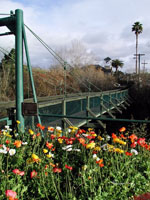 Links (under construction):
• Guide Maps
• Artists
• Schools and Community Organizations
• Press
• Sponsors
• Art on the Move
Contact Information:
agpublicart@gmail.com