Laurie Waller, Program Coordinator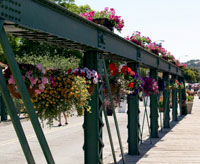 Floral displays consist of annuals, perennials, bulbs, ornamental grasses or other ornamental plants, and are planted in flower beds, carpet bedding, containers, baskets, and window boxes.
Floral Displays are an important part of Arroyo Grande In Bloom's beautification efforts.
We plant flowers throughout the Village area, we promote flower displays to local individuals and businesses, and we educate the public as to which flowers do well in this area and how to responsibly maintain floral displays with our limited natural resources.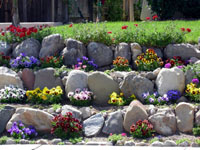 Arroyo Grande In Bloom was also instrumental in the designation of the Sweet Pea as our city's official flower.
Do you know of any areas in Arroyo Grande where you would like to see a floral display?
Contact Arroyo Grande in Bloom to suggest projects or request additional information.