Judy & David Hirsch, Program Coordinators
It is the goal of the Tidiness Team to create a culture of tidiness that works to keep the city clean, organized and appealing to all. It is clear that the responsibility for a tidy city falls upon all citizens, property owners, merchants, tenants, municipal government employees and visitors. How can you help keep Arroyo Grande tidy?
Volunteer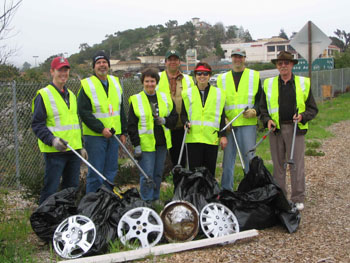 Volunteers pickup trash on El Camino Real.
Tidiness projects may include: litter pickup, removal of weeds from sidewalks and medians and cleaning of street furniture such as public benches, trash and recycle cans and light posts.
Picking up trash can also be accomplished as an individual effort. A civic minded couple picks up litter on West Branch Street as part of their morning walking routine while others pick up trash on their way to work.
Make an effort to keep your house tidy.
A tidy front yard benefits the homeowner by increasing the value of the property and helps the neighborhood by improving aesthetics and showing a pride of ownership. The following examples illustrate a few common tidiness deficiencies:
Street Frontage
• Weeds growing in curbs, gutters, sidewalks and driveway aprons
• Shrubs, trees and hedges encroaching on sidewalks
• Neglected parkway areas
• Broken or aging mailboxes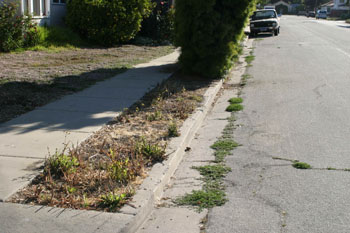 A parkway and gutter that needs some attention.
Overall Property Condition
• Storage of trash or solid waste
• Parked cars, motorcycles and ATV's on the front lawn
• Storage of non-operating vehicles
• Vehicles overhanging onto sidewalks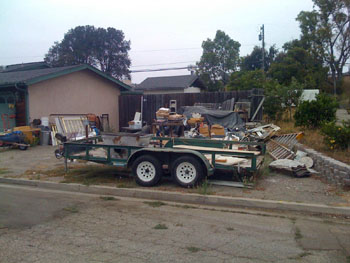 Storage of junk is not appropriate.
Landscaping
• Landscaping that does not appear planned and maintained
• Overgrown weeds in lawn, planters or driveways
• Dying or neglected lawns
• Overgrown shrubs and trees
An unkempt front yard diminishes the entire neighborhood.
Structures
• Peeling or faded paint
• Deteriorating roofing materials
• Broken components such as windows, screen doors, fences, etc.
• Presence of cobwebs on eaves, doors and windows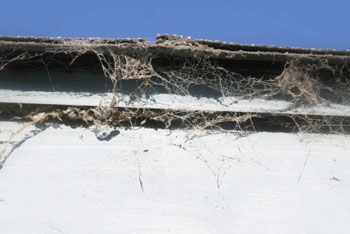 Keep your business storefront neat and tidy
• Make it a daily routine to pickup litter in front of and around your business
• Remove weeds from sidewalk cracks
• Clean sidewalks on a regular schedule
• Make your business attractive by planting flowers in pots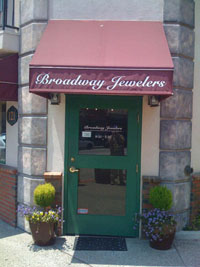 A neat and tidy storefront.
Success Stories:
Tidy Front Yards.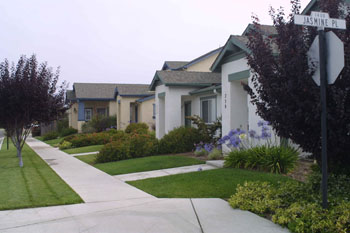 Well planned and maintained front yards.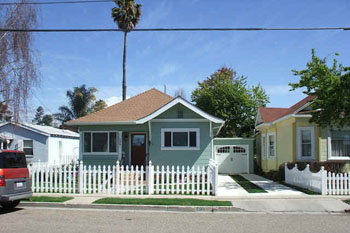 A tidy house with curb appeal.
Tidy places of worship.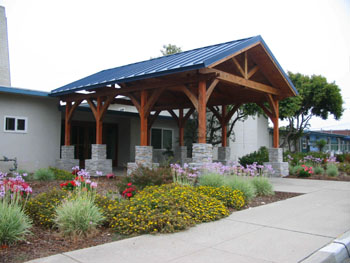 A tidy drought tolerant landscape at a church.
Municipal Improvements
Kudos to the City's Parks Department for placing a trashcan next to the bus bench on East Grand Avenue in front of the AM/PM. It became obvious that while people were waiting they would buy a soda or candy from nearby businesses and then when the bus arrived they left their trash on the bench only to be scattered by the wind. With the trash can installed the amount of trash has been reduced dramatically.
The Public Works Department recently repainted red curbs in the City. Added benefits included a more tidy appearance with fresh paint and covering tire scuffs.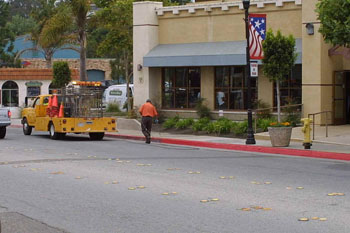 Fresh curb paint.
Need Help?
Arroyo Grande in Bloom volunteers may be able to help with:
• Landscape design assistance*
• Property improvement planning assistance*
• Labor assistance in landscaping, trash removal and general repairs*
Contact Arroyo Grande in Bloom to suggest projects or request additional information.

*Each project will be individually evaluated for the level of assistance provided by Arroyo Grande In Bloom.