Mary Hertel, Program Coordinator
Landscaping is a benefit to all our neighbors and visitors in Arroyo Grande. Creating colorful, beautiful spots throughout the city creates pride in the community and shows our visitors we care.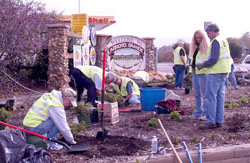 Our focus when designing an area to be landscaped is to be sensitive to our Mediterranean climate and use plants that tend to be drought tolerant and in the case of some historical settings, to use plant material that is reflective to that era.
For a list of plants that do well in our climate, please see our Plant List in the Resources page.
Do you know of any areas in Arroyo Grande that you would like to see improved with landscaping?
Arroyo Grande in Bloom volunteers may be able to help with:
• Landscape design assistance*
• Property improvement planning assistance*
• Labor assistance in landscaping, trash removal and general repairs*
Contact Arroyo Grande in Bloom to suggest projects or request additional information.

*Each project will be individually evaluated for the level of assistance provided by Arroyo Grande In Bloom.