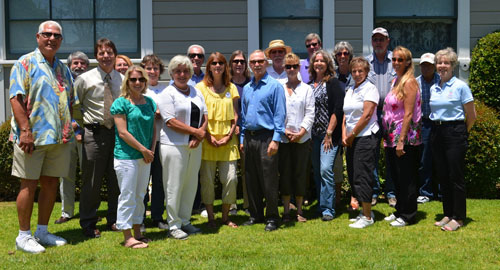 Join Arroyo Grande In Bloom's award winning volunteer team for a variety of clean up, planting and other beautification projects throughout the City of Arroyo Grande.
We make a positive impact in our community by creating:
• Increased levels of civic pride and community involvement.
• Cooperation among residents, organizations, businesses and city government.
• A common goal to work toward: a better place to live, work, play, and visit.
• Visible results.
• Increased property values.
• Increased economic development and a positive impact on local businesses.
• Increased tourism and a positive impact on our hospitality industry.
• Decreased vandalism.
• Information and cultural exchanges with community members and visitors.
We continue every week to pick up trash, pants flowers, plant trees, weed and perform other beautification activities. Most projects occur on Saturday mornings and last 2-3 hours. Every effort helps and we want our volunteers to feel free to work as much or as little as they want.
Arroyo Grande in Bloom welcomes all volunteers that want make a difference and have a positive influence on the appearance and well being of our community. We also invite: Service groups, churches, fraternal organizations, business organizations and youth groups.
Please contact us to be placed on our volunteer e-mail notification list or join our facebook group to be notified of upcoming projects.
Suggestions for future projects, planting, tidiness, etc. are welcome. Contact an Arroyo Grande in Bloom Committee leader with any ideas.