Kristen Barneich, Program Coordinator
"Urban Forest" refers to the trees that grow within our city whether they are street trees, park trees or the trees planted on other private or public property.

The Tree Guild of Arroyo Grande works with Arroyo Grande In Bloom to help promote and maintain our city's urban forests.
Healthy urban forests clean our air and water, save energy through cooling shade, raise property values, increase business profits and rekindle neighborhood pride. They provide places for children to play and provide homes and food for wildlife. Our communities' trees have a lot to offer. When selected, planted and cared for properly, trees can improve the quality of our lives for decades to come.
To Date the Tree Guild has planted 318 Trees!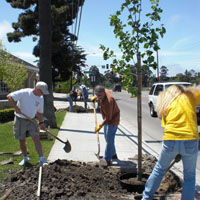 Visit the Tree Guild of Arroyo Grande for Project Updates.
Contact Kristen Barneich for more information on Urban Forestry.